MUSD Start of 2nd semester Delay / MUSD Retrasar el Inicio del Segundo Semestre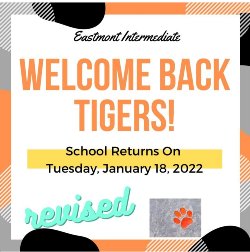 What

MUSD Start of 2nd semester Delay / MUSD Retrasar el Inicio del Segundo Semestre

When

1/10/2022
Dear Montebello Unified School District Families,
I hope you had a restful and safe holiday season. I wanted to take this moment to provide updates for you as it relates to returning to school from winter break. As you know, the County of Los Angeles is experiencing a significant surge in COVID-19 positive cases. In response to this, we have decided to delay the start of the second semester until Tuesday, January 18, 2022. Delaying the start of school will give the District, our students, and families a chance to test for COVID-19 and better prepare for a safe return. We will be requiring that students show proof of a negative COVID-19 test to return to in person instruction.
Mark Skvarna
Interim Superintendent of Schools

Estimadas Familias del Distrito Escolar Unificado de Montebello,
Espero que hayan tenido unas vacaciones tranquilas y seguras. Quería aprovechar este momento para brindarles actualizaciones en lo que respecta al regreso a la escuela después de las vacaciones de invierno. Como saben, el condado de Los Ángeles está experimentando un aumento significativo de casos positivos de COVID-19. En respuesta a esto, hemos decidido retrasar el inicio del segundo semestre hasta el martes 18 de enero de 2022. Retrasar el inicio de clases le dará al Distrito, a nuestros estudiantes y familias la oportunidad de tomar la prueba de COVID-19 y prepararse mejor para un regreso seguro. Requeriremos que los estudiantes muestren un comprobante de un resultado negativo de una prueba COVID-19 para regresar a la instrucción en persona.

Mark Skvarna
Interim Superintendent of Schools
Copy to Google Calendar
•
Download iCal Event