PROM NIGHT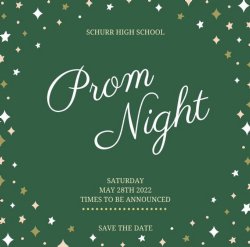 What

PROM NIGHT

When

5/28/2022, 6:00 PM

–

10:00 PM
PROM 2022 INFORMATION
Saturday, May 28, 2022 7:00pm-12:00am
"Light the Night"
Wallis Annenberg Building
Located in Exposition Park
3737 S. Figueroa St, Los Angeles, CA 90007
TICKET SALES- IN ORDER TO PURCHASE A TICKET YOU MUST BE CLEARED OF ANY SCHOOL FINES. IF BRINGING A GUEST, YOU MUST HAVE YOUR GUEST PASS FILLED OUT AND PROCESSED BEFORE YOU BUY YOUR TICKET. NO GUESTS OVER THE AGE OF 20 WILL BE ALLOWED. PLEASE MAKE SURE TO GET CLEARED FIRST IN THE FRONT OFFICE BY GETTING AN ORANGE SLIP FROM BLANCA OR AURORA. YOU NEED THIS ORANGE SLIP IN ORDER TO BUY A TICKET.
Early Bird Sale: May 2nd - May 11th, 2022
Price per couple: $240 cash/ $248 credit card (transaction fee)

Price for individual: $120 cash/$124 credit card (transaction fee)
Sale #2: May 12th - May 27, 2022
Price per couple: $260 cash/ $268 credit card (transaction fee)

Price for individual: $130 cash/ $137 credit card (transaction fee)
Sales begin at Lunch when the bell rings, please do not leave class early to get in line. ONCE THE SCHOOL BELL RINGS TO END LUNCH NO MORE TICKETS WILL BE SOLD. EVEN IF YOU'RE NEXT IN LINE.
Ticket price includes: dinner, dancing, a photo booth, a caricature artist will be on hand, and Legacy Studios will be taking pictures for purchase. Self-parking is available for $18. Tickets may NOT be resold, exchanged, or given away. Tickets are not refundable! DO NOT LOSE YOUR TICKETS!
Schurr High School Junior and Senior students may invite one guest/escort. Guest application forms must be COMPLETELY filled out and returned to the Asst. Principal's Office before tickets are purchased. Anyone who has been removed from Schurr High School under dishonorable dismissal is not eligible to attend the Prom. All after school and/or Saturday Detentions owed and fines must be cleared prior to ticket purchase. All guests are subject to approval of the administration.
Program
Registration Line will begin at 6:00 PM and end at 10:00 PM.
DOORS OPEN AT 7:00 PM. NO ONE WILL BE ADMITTED TO THE PROM AFTER 10:00 PM. Please have your receipt and some form of identification with you as you check in at the registration table.
*** ONCE YOU LEAVE THE PROM YOU WILL NOT BE ABLE TO RETURN***
ATTIRE
Acceptable attire will be formal dresses and dinner jacket/tuxedos. Your formal attire should adhere to the school dress code.
BEHAVIOR
The night of the Prom is to be an enjoyable occasion that will bring lasting memories. Since this is a school activity, there will be no smoking and the use or possession of intoxicating substances is strictly prohibited. The following items will be confiscated if brought to the Prom: alcohol, flasks, tobacco products, vape pens, any illegal substances, canes, zoot or wallet chains, gum, lighters/matches, markers, pens & pencils, sharp objects, water bottles, and weapons. ANYONE under the influence, or in possession, of intoxicating substances will be ordered to leave without a refund, and may be subject to police arrest. Anyone in violation will be ordered to leave, without a refund.
Copy to Google Calendar
•
Download iCal Event